Versatile Electric Power Like Never Before – The 2023 Hyundai IONIQ 5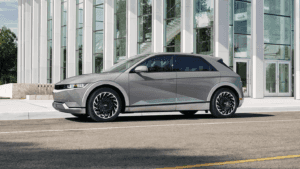 The 2023 Hyundai IONIQ 5 is an electric vehicle (EV) like you've never seen before. It's fast, sporty, functional, versatile, and easy-to-use. It's part of the new generation of EVs that are transforming the way we think about travel but doesn't require you to shake up your travel plans or compromise on comfort and usability. It's simply a great car that happens to be electric.
Performance and Range
The 2023 Hyundai IONIQ 5 is a car like other new Hyundai models that provides thrills whenever you need them. This attribute is simply amplified by the instant acceleration provided by its powerful, pure electric powertrain.
On the RWD powertrain option, you get 225 horsepower and 258 lb-ft of torque
On the AWD powertrain option, you get an exceptional 320 horsepower and 446 lb-ft of torque
But this car isn't just about speed. It also harnesses its electric zing to get you where you need to go, no matter the distance. With an EPA-estimated 303 miles of range and up to 68 miles of range added in 5 minutes of recharge with a 800V DC ultra-fast charger, you won't be hamstrung by recharge times.
Regenerative braking is another neat feature that extends the range and usability of the Hyundai IONIQ 5. And with customizable High, Low, and Auto settings, you can choose how much regen you want depending on the type of driving you're doing at that moment.
Talk to our Hyundai dealers to find out everything you need to know about the performance and range capabilities of the innovative powertrain inside the Hyundai IONIQ 5.
Style and Features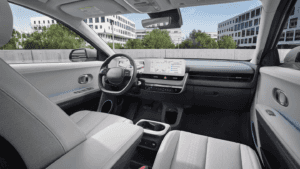 The 2023 Hyundai IONIQ 5 is a car that infuses style with functionality. Its' cool concept exterior looks establish a futuristic vibe that's carried into reality with its versatile interior and smart technological features.
Available Vehicle-to-Load V2L 120V charging outlets
Hyundai Digital Key with smartphone app compatibility that lets you unlock doors, start the engine, and share vehicle access remotely
3-inch touchscreen with voice-controlled climate and interior functions and Apple CarPlay® and Android Auto™ compatibility
Hyundai SmartSense safety systems including Highway Driving Assist, Remote Smart Parking Assist, Blind-Spot View Monitor, and more
Visit our Hyundai dealership to see these features in action and discover how they have the potential to transform the way you drive.
Zeigler Hyundai of Racine
Drop by Zeigler Hyundai of Racine to see the 2023 Hyundai IONIQ 5 for yourself. This stylish, sporty, functional, and comfortable vehicle is a step beyond what was previously possible. With its efficient powertrain, fast charging times, instant power, and cutting-edge driving features you'll enjoy every moment on the road even more than you did before.