The 2023 Hyundai Sonata Hybrid Delivers Elegance and Efficiency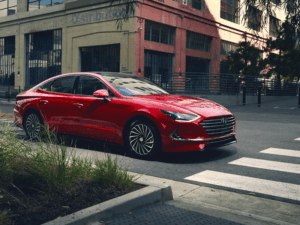 The 2023 Hyundai Sonata Hybrid returns to our community with signature style and remarkable performance. Whether you're a multi-generation fan of this hybrid or looking to experience its understated power for the first time, there's never been a better opportunity to test drive this new Hyundai sedan at our dealership.
2023 Hyundai Sonata Hybrid – Designed to Leave a Lasting Impression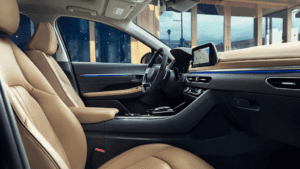 With exterior styling composed of bold angles and svelte musculature, the 2023 Hyundai Sonata Hybrid can't help but exude confidence and sophistication – just like you. Standard LED headlights are artfully ensconced in chrome trim, leading the eye across this sedan's lithe and nimble frame, which is engineered to improve fuel economy with an aerodynamic 0.24 drag coefficient. And with up to 17-inch turbine-style wheels available, you'll never have a problem drawing a crowd around our Hyundai dealership serving Racine, WI.
2023 Hyundai Sonata Hybrid – Light on Fuel Consumption, Heavy on Performance
Beneath its streamlined hood, the 2023 Hyundai Sonata Hybrid is powered by a two-liter inline-four engine that leverages a 39-kWh battery-powered motor to produce a combined 192 horsepower and 139 lb-ft of torque. A front-wheel drivetrain pairs with a continuously variable transmission for maximum efficiency, and regenerative braking helps your fuel dollar go even further, converting your kinetic energy into electricity that helps recharge your battery while you drive.
2023 Hyundai Sonata Hybrid – Your Tranquil Getaway
The interior of the 2023 Hyundai Sonata Hybrid is comfortable and tech-forward with a capacious 105 cubic feet of passenger volume across its two rows and a 10.24-inch infotainment touchscreen that comes standard on most trim levels.
For a tech-froward treat, the Hyundai Digital Key employs NFC technology to turn your Android smartphone into a key that can unlock, remotely start, and securely share privileges with other compatible smartphones.
Test-Drive the 2023 Hyundai Sonata Hybrid Today
Between its dynamic sense of style and its outstandingly efficient performance, it's no wonder why the 2023 Hyundai Sonata Hybrid is so popular. Visit us in person or online at Zeigler Hyundai of Racine to test drive this remarkable sedan today. And be sure to inquire about our Hyundai financing programs, which can help make your dreams of a new hybrid a reality!